For those of you that followed us last year, you might remember that we did an article similar to this about coaches with very little job security. So, we decided to run it back in our 2021 sim, which has just crossed the midway point of the regular season! In this article, we will be analyzing coaches who came into 2021 on some sort of a hot seat. How hot you might ask? We used CBS Sports' Dennis Dodd's annual article, in where he ranks all 130 FBS coaches' job security heading into the new season. He ranks them on a 0-5 scale, where 0 is "untouchable." Dodd lists all coaches as a 4 (start improving now) or a 5 (win or be fired) being firmly on the hot seat. Keep in mind, this analysis is going off our SIMULATED results, not real-life. If you've been watching college football this year, you know what that means. Let's dive in to nine coaches facing pressure!
Nebraska: Scott Frost
Rating: 5 TRENDING: UP
Frost came in on the hottest seat of anyone in college football. Nebraska's favorite son has come back to lead his program to glory, but it has hardly gone as planned. Frost has turned in three consecutive losing seasons, and zero bowl appearances. Although Frost has been snake-bitten at times with some brutal misfortune in losses, the Husker faithful's patience is wearing thin. No one in Lincoln wants to seem him fail, but it seems as if Frost needs to get to a bowl game to save his job. Frost has been much better in 2021, as Nebraska is 5-3 already, having played in Week Zero. They head to their bye week with road Big Ten wins over Minnesota and Illinois, and home victories against Fordham, Buffalo, and Northwestern. No world-beaters there, but they got a couple decent wins. They were stomped by rival Oklahoma in Norman, and lost a couple heartbreakers to the Michigan Schools by a combined six points. Frost needed one of those, but he's still in okay shape. He has a fairly winnable home game against Purdue, but then things get challenging, with OSU, Wiscy, and Iowa. If he gets to six wins, I think he'll stick around for one more year. He's currently on pace.
Virginia Tech: Justin Fuente
Rating: 5 TRENDING: UP
It's tough to tell how good of a job Justin Fuente is doing this year, but I think he is performing well enough. The question is, is if Hokie fans agree with me. VA Tech expects to be near the top of the Coastal standings every season, and with Fuente being right around a .500 coach in Blacksburg, I can see their frustrations. Tech is 4-2, with close wins over a couple slightly disappointing teams in Notre Dame and West Virginia. Their two blemishes are to undefeated squads in UNC and Pitt, and they came by a combined four points! Importantly for Fuente, the defense seems to be improved from 2020. The schedule is decent the rest of the way, and I think if they can get to 8-4, Fuente will buy himself another year, dependent on who he beats. Road contests at BC, Miami, and UVA will be the tricky ones. I think he needs 1-2 of those, provided they don't slip up anywhere else.
UConn: Randy Edsall
Rating: 5 TRENDING: DOWN
To be frank, it doesn't seem that UConn is all too keen about investing in football these days. Following the fallout of becoming an Independent, and not playing in 2020 due to COVID-related reasons, Edsall's second tenure in Storrs has been a disaster to say the least. I have no idea how Edsall was going to save his job this season, but it may have taken 4 wins. That's not happening folks. The Huskies are 1-7 with a lone win against Holy Cross. While the Huskies haven't been shellacked too many times, they've lost to some bad teams, including 3 in a row against Vandy, UMass, and Yale. I question who will even take this job at this point.
Arizona State: Herm Edwards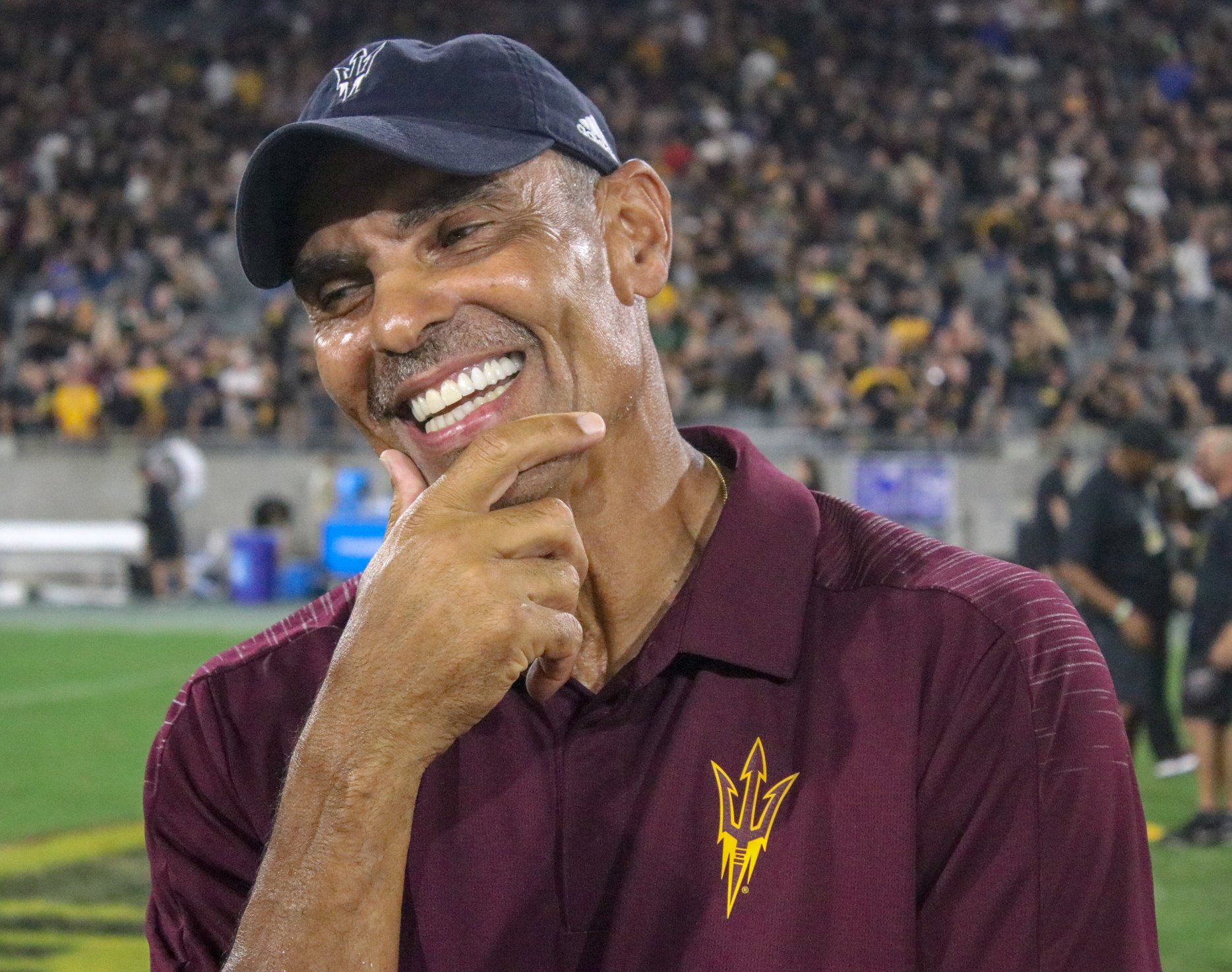 Rating: 4 TRENDING: UP?
Herm Edwards was a questionable hire for ASU when it took place. That's a given. The then-ESPN analyst hadn't coached in ten seasons, and his only college coaching experience was in the late 1980's as an assistant with San Jose State. However, despite Herm's age and lack of experience at the college level, the Sun Devils have been quite competent during his tenure. That's when scandal hit. The NCAA is probing the ASU program for multiple violations from the 2020 season, and according to insiders, it looks pretty murky for Edwards and his staff. However, Arizona State is doing all they can on the field to distract from the possible impending doom. The Devils are 7-0 and ranked #5 in the country, their highest ranking since 1996! They're well on their way for their first division crown since 2013, and the schedule is fairly manageable the rest of the way. After already beating UCLA and Utah, they have tough games against USC and Washington remaining, and then a potential Pac-12 Championship Game. ASU has playoffs on the mind, and they look talented enough to do it. They can get there with a loss, but then they'll need help. The easiest route in certainly running the table. Regardless of what happens with the NCAA, this Sun Devil team might be the best in the Pac-12.
LSU: Ed Orgeron
Rating: 4 TRENDING: EVEN
Somehow, we've made it four coaches in without mentioning the crazy expectations that come with coaching in the SEC. We'll start with something asinine: Coach O being on the hot seat two seasons removed from a national championship. LSU expects greatness, and after a 5-5 campaign that saw plenty of regression, the Bayou Bengals needed a bounce-back season badly. So far LSU is 5-2. They have two losses that LSU fans probably view as unacceptable: at UCLA by a singular point, and a six-point defeat at home to the Auburn Tigers. Their five wins include a defeat of Mississippi State and two overtime wins against Kentucky and Florida, the latter being a Top 5 upset. This win was much-needed for Coach O, but it still won't be enough to save his job. Think of it this way. They started the season ranked 16th, and they're currently 17th. They have two extremely difficult road tests at Ole Miss and Alabama coming up. They can't lose both, or Orgeron might be out. If they split, it will help him dearly should they win out after that. But, the schedule is bookended by a home date with the undefeated Aggies of TAMU, who look like the class of the conference. I really don't think LSU finishes worse than 7-5, but would that be enough for one more year? Time will tell.
Michigan: Jim Harbaugh
Rating: 4 TRENDING: EVEN
While Jim Harbaugh has brought up the competition level of Michigan a good deal since arriving in Ann Arbor, his act is running stale with Wolverine fans and alumni. They're a good, consistent program now, despite last year's weird 2-4 COVID-laden season. But, after restructuring his contract in the offseason, Harbaugh knows he hasn't lived up to the lofty expectations his alma mater has for him. Michigan looks much better than 2020, but to be clear, this looks like a lot of the good, but not great, Harbaugh teams of old. Granted, they're 5-1 and one point from being undefeated, as an OT loss in Madison is their only blemish. They have gone from unranked to #21 in the polls thus far, and have beaten a ranked Washington squad in non-con, as well as earned a gutsy road win in Lincoln against an improved Huskers squad. The schedule will ramp up the rest of the way, as they get a 5-1 Northwestern in the Big House this week, along with a trip to rival MSU the following week. Indiana and Maryland are no push-overs, and Penn State's a good team. Then there's the elephant in the room at the end of the regular season. Harbaugh could lose the rest of their games, beat Ohio State and be in better standing than he came into the season. That's how important The Game is. It's tough to gauge what he needs to do the rest of the way besides beating OSU. But I think if they are somewhat close in that game, and they go 9-3, he should be okay. That won't come easy.
USC: Clay Helton
Rating: 4 TRENDING: DOWN
From one blue blood to another, we head to sunny Los Angeles to check in on our annual job security check on Clay Helton. Helton seems to have been on the hot seat since the day he was hired, as many of the Trojan boosters and fans don't feel like his personality fits the prestige that comes with leading such a glitzy program. Helton's results have also been inconsistent at best, considering with how lofty the expectations are. SC expects national championships, and Helton hasn't really even sniffed the playoff besides a semi-close call in 2017. The start of the season couldn't have gone much better for the Trojans, as the offense was scoring left and right and dispatched four lesser opponents in a row, in games that usually give them trouble. Then USC did what USC has been prone to do, lose a game they have no business losing. A trip to Boulder gave USC their first loss: a heartbreaker by the slimmest of margins. Then, they returned home and got picked off by Utah by one score. All of a sudden, USC is on a losing streak, and now has to travel to South Bend, where they've struggled mightily as of late. They also have trips to Tempe and Berkeley left, along with tougher games against BYU and UCLA. If Helton doesn't win out, I think the administration finally pulls the trigger. He might be able to skate by with one loss, but I don't think that's too likely at this point.
UMass: Walt Bell
Rating: 4 TRENDING: EVEN
While Walt Bell had promise as a head coach at one point, that seems to be fading fast. Granted, UMass is one of the toughest jobs out there, and FBS football has not treated them well. But after going 1-15 coming into this season at the helm, Bell was in a tough spot. Unlike UConn, the Minutemen have gotten throttled in almost every loss they have. They sit at 1-5, thanks to a win over…. you guessed it, UConn. That win actually means a lot to this program, and they are at least better than their geographic rivals. Not only that, but the schedule may be easier in the second half. After already losing to the likes of Pitt, BC, and a ranked Coastal team, some opportunities for wins may present themselves. They have two northeastern FCS teams in Rhode Island and Maine coming to Amherst, and a road trip to lowly NMSU. Granted, there are tough road trips to Florida State, Liberty, and Army, but this is UMass. They'll take anything they can get. While I'm a bit optimistic for UMass to get to 3 wins, Bell still has to go out and do it, with a pretty bad team. I'm rooting for him.
UTEP: Dana Dimel
Rating: 4 TRENDING: UP
Coach Dimel cooled his own seat a good deal last year, winning a whopping three games in 2020, a huge step forward considering the Miners' recent football success. In fact, Dimel had only won two games combined in the two seasons prior in El Paso. Granted, this job is very challenging to win at, as resources and talent are limited. However, the Miner program seems to be picking up a bit of steam. Yes, the team is 3-4, but that matches 2020's win total already. They have taken care of business against rival NMSU, FCS Bethune-Cookman, and notched a conference win against Old Dominion. Arguably, I think UTEP's losses might be even more impressive. A 20 point loss at Boise is pretty impressive given the context, and they lost home games to New Mexico and LA Tech by a combined four points! Unfortunately for UTEP, the schedule is backloaded, with tough games against FAU and UTSA remaining. It doesn't help North Texas is much improved either. They still have Rice coming to the Sun Bowl, which could be a huge opportunity for win #4. Baby steps are all they're expecting at UTEP, and Dimel seems to be accomplishing that ever-so-slowly.