Hey everybody! Last year, I took a glance at some of the new coaches around college football and how they fared in their debut within our simulation. This year, I decided to expand the sample size for the new coaches to the first three weeks of the season. I'll be grading all 17 new coaches based on their results so far, as well as the expectations for the individual coach. Enjoy!
Arizona: Jedd Fisch (1-2)
vs. BYU: L 30-43, San Diego State: L 11-16, Northern Arizona: W 42-0
Within college football circles, Fisch seemed to be a bit of a questionable hire. However, he seemed to please lots of UA alumni with his charisma and moves he made in the offseason. So far, the Cats have shown signs of life under Fisch. They suffered a couple of competitive losses to BYU and SDSU. As a program, Zona wants to get back ahead of these G5 teams in the long run, but Kevin Sumlin left the cupboard pretty bare for the most part. UA then went out and shutout NAU 42-0, a game Fisch absolutely needed as a stepping stone. While the start hasn't been ideal, there are some building blocks and hopefully Grant Gunnell can take some steps under Fisch, considering his experience coaching quarterbacks. The defense has been solid thus far under new DC Don Brown. We'll see how that holds up in Pac-12 play, within a division that currently has four ranked teams.
GRADE: C+
Arkansas State: Butch Jones (1-2)
Central Arkansas: W 59-32, Memphis: L 26-37, @ Washington: L 26-60
Butch is back in the south as a head football coach, but with much less of a spotlight than he had in Knoxville. ASU has had some solid coaches throughout the years, and Jones would love to keep up the trend to potentially get another shot in the Power 5 down the road. Coach Blake Anderson needed a change of pace after his personal tragedy, and he did get a "better job" in Utah State. Enter Butch Jones, in Jonesboro, no less as he is trying to regain some traction after a successful run in the Sun Belt. He will have to rebuilt the roster, after several players followed Anderson to USU. Butch is 1-2, thus far, and probably what everyone expected. The expectations aren't too high for 2021, but Jones has to fix the defense. The team put up a fight at home against a solid Memphis team, but the defense has been gutted all season (putting up a poor effort in Seattle last weekend). The defense ranks 128th in the country in scoring. We'll see how Jones' team adjusts headed into a weak division where they very well could finish as high as 2nd if things break the right way.
GRADE: C
Auburn: Bryan Harsin (2-1)
Akron: W 59-0, Alabama State: @ W 44-0, @ Penn State: L 22-38
A former Arkansas State coach is Bryan Harsin who jumped south from G5 powerhouse Boise following Gus Malzahn's exit. Auburn is in a bit of a rebuilding mode, but as seen under Gus's tenure, Auburn fans will not wait long, and they will expect more than just a "good" team. Auburn is 2-1 thus far, winning two cupcakes, and losing in an extremely tough environment in Happy Valley last Saturday night. I thought Auburn would be a little more competitive in that game, as the defense did not look very stout. Auburn will have chances to prove themselves however. They have five teams currently left on their schedule who are ranked at the moment, so should the Tigers get to 7-5, I think it's a great success in Year 1 for Harsin. Hopefully, Bo Nix can take some steps under Harsin, because they will certainly need him if they're going to put together at least a .500 record in conference. It's still a little tough to get a read on this team, but we will find out soon enough.
GRADE: C
Boise State: Andy Avalos (1-2)
@ UCF: L 30-52, UTEP: W 38-18, Oklahoma State: L 21-28
Replacing Harsin in Boise is former Oregon DC Andy Avalos, who returns to coach his alma mater. Harsin couldn't quite keep up Chris Petersen's level of success at BSU, but he did a very nice job. Now it's Avalos' turn to keep it up. His defense had a stiff challenge in Week 1, going up against a high-flying UCF squad in Orlando. They did not come to play and gave up over 50. After two straight home games, the Broncos are 1-2, beating (an improved) UTEP rather unconvincingly and suffering a close loss to the Pokes by a touchdown. Yes, neither of their two losses are anything to be ashamed of, but BSU would've ideally liked to have one of those. This team just isn't the class of the G5 they used to be. That's not saying they will get back there, however. But given the history and resources in Boise, through three games, Avalos has not lived up to the expectations thus far.
GRADE: D+
Buffalo: Maurice Linguist (1-2)
Wagner: W 43-13, @ Nebraska: L 39-52, #20 Coastal Carolina: L 38-42
Given the Les Miles situation at Kansas, and Lance Leipold's late departure in the offseason, Buffalo had to move fast. So they went out and poached Maurice Linguist from Michigan. Under the first-time head coach, results have been promising thus far, albeit a 1-2 start. After taking care of FCS Wagner, they put up a fight in a tough environment in Lincoln. Then, they hosted a ranked Coastal squad and just ran out of gas at the end, coming up short of pulling off the upset. The offense has been great so far, averaging 40 PPG. If they keep this up, I wouldn't be surprised to see this Bulls team win the MAC. Buffalo will sure miss Leipold, but Linguist has gotten this roster playing hard through three.
GRADE: B
Illinois: Bret Bielema (1-3)
Nebraska: L 10-19, UTSA: W 25-19, @ Virginia: L 8-39, Maryland: L 18-28
Bert is back in the Big Ten, and coaching in his home state. The Illini have been dreadful the past few seasons, so Bielema seems like a logical fit for competency given his tenure at Wisconsin. Illinois hasn't looked great thus far, however. They're already 0-2 in conference play with a pair of close losses. They were fairly competitive in those two, but were throttled in Charlottesville by the Cavaliers. I do feel that their lone with thus far against UTSA will be a solid win by the end of the year, as the Roadrunners will have a good record. If Illinois wants to sniff a bowl with their veteran lineup, the offense has to get better, as they're averaging just over 15 PPG. Things have to start improving quickly in Champaign.
GRADE: D
Kansas: Lance Leipold (1-2)
South Dakota: W 25-15, @ #20 Coastal Carolina: L 9-38, Baylor: L 3-42
Lance Leipold is a winner. It's plain and simple, with all he accomplished at Wisconsin-Whitewater and his turnaround at Buffalo. Kansas will certainly test that label he has earned. In an extremely tough job, KU is just looking for some sort of consistency and stability after four coaches in the last decade. Luckily, a good number of Buffalo players followed their coach to Lawrence. In the opener, the Jayhawks got a victory, one more than all of last year. It was an FCS team, but South Dakota is a solid FCS team. Still, it wasn't the most convincing, and they then followed it up with two blowout losses. At Coastal was a tough one, but Leipold himself will tell you they should have been much more competitive at home against a Baylor team that struggled last season. We can't judge too much, but KU's game at Duke this week should be a good measuring stick.
GRADE: D+
Louisiana-Monroe: Terry Bowden (1-1)
@ Kentucky: L 6-35, Jackson State: W 44-18
Terry Bowden is back into head coaching after a long stint at Akron. ULM is in a dire spot in the Sun Belt. Luckily, there are two other new coaches in the division. Also, expectations are very low for this Warhawk team. They couldn't get much going at Kentucky, as expected. But after an extremely early bye week, they rested up and got a convincing win, surpassing last year's win total. Yes, it was just Jackson State, but ULM will take any win they can. For Terry's sake, I hope this works out and there's some progress in Monroe.
GRADE: B
Marshall: Charles Huff (3-0)
@ Navy: W 31-21, NC Central: W 33-3, East Carolina W 46-42
In perhaps the most questionable coaching change this offseason, Doc Holliday is out at Marshall head coach after 85 wins over 11 seasons. There were conflicting reports as to why, but I'm afraid this will hurt the Herd long-term. Enter first-time head coach Charles Huff, an excellent recruiter. Three games in, the Huntington locals aren't missing Doc yet. Three games, three wins for Huff, featuring two against AAC teams. Navy and ECU aren't the strongest teams in the American, but it's a nice accomplishment for a school like Marshall. Add in a blowout win over NC Central, and the Herd are sitting pretty thus far. A trip to Boone awaits to face App State, a game that will tell us just how real Marshall is.
GRADE: A
South Alabama: Kane Wommack (2-1)
Southern Miss: L 6-34, @ Bowling Green: W 48-13, Alcorn State: W 35-3
The third coach we will discuss in the Sun Belt West: Kane Wommack comes over after coaching Indiana's defense the last couple years. Steve Campbell only lasted three years in Mobile, and the roster is not where it needs to be. Luckily for Wommack, the Jags had two winnable non-con games early on. They got dominated in Week 1 against Southern Miss, but throttled Bowling Green on the road before handling Alcorn State. This won't be a good team, but considering they dominated BG away from home, this team may not be starting from the bottom of college football like we might have thought. The defense has led the way thus far, averaging just under 17 PPG.
GRADE: B
South Carolina: Shane Beamer (2-1)
Eastern Illinois: W 37-10, @ East Carolina: W 29-24, @ #5 Georgia: L 8-42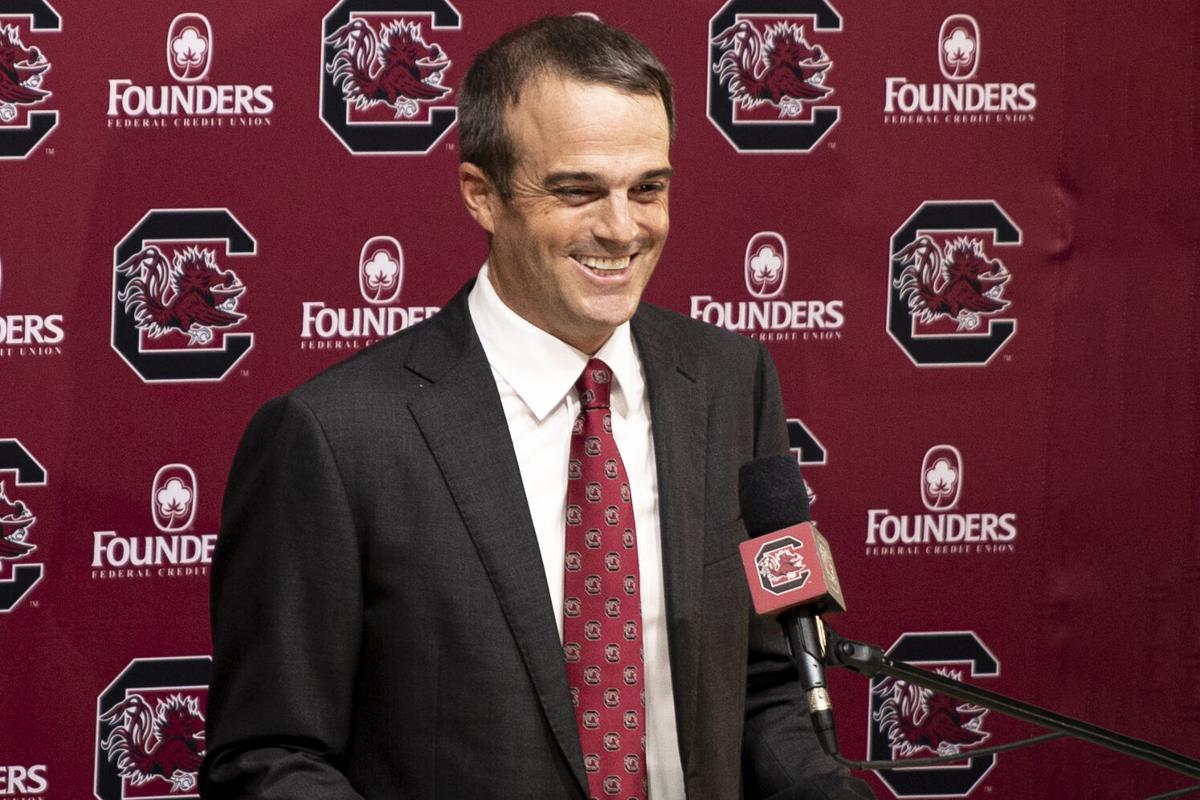 Shane Beamer, son of legendary coach Frank, takes over in Columbia for Will Muschamp. This hire is either going to look genius or a risk that never should have been taken. But thus far, it hasn't been the train wreck some anticipated. They took care of EIU at home, and escaped Greenville with a nail-biter over ECU. They then got pummeled by an elite Georgia team. Had they lost the ECU game, it may be a completely different story about the short sample size thus far. But they have two wins, and that's something to build on, because the schedule is brutal down the stretch.
GRADE: C
Southern Miss: Will Hall (2-1)
@ South Alabama: W 34-6, Grambling: W 37-13, Troy: L 31-34
The Golden Eagles had some coaching chaos in 2020 after Jay Hopson resigned one game into last season. In comes Will Hall, rival Tulane's former OC. This team needs to improve, but it shouldn't be a total rebuild. The offense does look good thus far under Hall, posting 30+ in all three contests in 2021. After dominating USA in Mobile, they handled Grambling before dropping a home game to a pretty good Troy team by a measly field goal. Overall, this looks like a team that has bought in thus far, and that's great news in Hattiesburg. We'll see if a bowl could possibly be in play for the Golden Eagles should they continue their solid play.
GRADE: B
Tennessee: Josh Heupel (2-1)
Bowling Green: W 48-3, Pittsburgh: W 22-19, Tennessee Tech: W 59-11
After yet another absolute clown-show finish to a coaching regime in Knoxville, the Vols bring in Josh Heupel from UCF, who did pretty decent to maintain a high level of play after Scott Frost's exit. The offensive guru is looking to run very quickly at Tennessee, and hopefully regain some kind of prominence or at the very least, stability. Tennessee's offense has beat up on a couple poor teams so far, but struggled against a solid defense in Pitt. They dropped that game by just three, but it was a home game. Tennessee is 2-1, and their defense has looked very stout, but they have a tough road ahead. Nevertheless, I'm preaching patience for the Tennessee fanbase. Give the guy a chance.
GRADE: C-
Texas: Steve Sarkisian (3-0)
#23 Louisiana: W 36-22, @ Arkansas: W 27-26 (OT), Rice: W 47-27
The biggest job on the market this offseason was none other than the Texas Longhorns after moving on from Tom Herman after a quality 7-3 season. That's a bit shocking, but it is Texas, and they expect championships. Their man for the job is former Alabama OC Steve Sarkisian, who was the head man previously at Washington and USC. Sark can run an offense, and is a brilliant play-caller. We'll see what he can do with a decently talented roster already. So far, so good for the Horns. They're 3-0, with a win over a ranked ULL team. Yes, it's a Sun Belt team at home, but the Cajuns are for real. Yes, they beat Arkansas by a point in OT, but a road SEC win should count for something. They defeated Rice to get to 3-0 for the first time since 2012! The offense hasn't proved to be world-beaters yet, but they are very talented, and could legitimately lead this team to 10 wins. If Sarkisian can figure out which QB of Hudson Card and Casey Thompson he likes better, this team could be dynamite.
GRADE: A-
UCF: Gus Malzahn (2-1)
Boise State: W 52-30, Bethune-Cookman: W 82-0, @ Louisville: L 29-44
After Coach Heupel left for Knoxville, UCF called up the newly available Gus Bus following his departure from Auburn. UCF was granted the keys to said bus. This seems like a match made in heaven to me. UCF has a solid roster in place, and a fertile recruiting ground nearby. Dillon Gabriel was slinging the rock for a couple years, and transfer running back Isaiah Bowser should get plenty of touches within Malzahn's offense. Right out of the gate, UCF put up 52 on a solid Boise team to earn an impressive non-con win. Next week, they picked up right where they left off, and although they played a poor FCS squad in Bethune-Cookman, they put up a school record 82(!!!) points. Unfortunately, they should have left some points for last Friday night, where they were clipped by a meddling Louisville team. UCF probably should have had that one, but there is plenty of time to work on some consistency. I think this team will be fine in the AAC in 2021.
GRADE: B-
Utah State: Blake Anderson (1-2)
@ Washington State: L 17-47, North Dakota W 25-15, @ Air Force: L 17-20 (OT)
After Gary Andersen left things a mess in Logan following his second term there, the Aggies replaced him with a new Anderson. Blake comes over from Arkansas State and faces an uphill climb in a much tougher job than his previous one. Anderson started things off with a bit of a challenge, and it proved to be just that, getting spanked by Wazzu in Pullman. They came home to fend off a pesky North Dakota team by 10, before almost pulling an upset in Colorado Springs at division rival Air Force. They lost by a field goal in OT, but close is no cigar. Regardless, hopefully USU is finding their footing after a rough start, but we'll see if the results will come in Year 1 under Anderson.
GRADE: C
Vanderbilt: Clark Lea (2-1)
East Tennessee State: W 29-10, @ Colorado State: L 32-39, Stanford: W 23-22 (OT)
Clark Lea worked wonders as defensive coordinator of Notre Dame. But now, his dream job is finally his, as he returns to coach his alma mater in Nashville. Vandy is one of the toughest jobs in the country, but Lea thinks he knows what it takes to build something there. He started off with a solid home win, but things turned sour quickly, after losing a shootout road trip to lowly Colorado State. Things could have spun out of control from there, but the Commodores righted the ship (pun) by knocking off the Stanford Cardinal in a huge redemption game for Lea and company. While Stanford could prove to be a terrible team this year, that was a win that the 'Dores needed to escape the absolute basement of the Power 5. Now, it's time to see if they can play spoiler and notch an SEC win or two.
GRADE: C
That's all folks! Overall, the 17 new head coaches are 28-23, and the average grade ends up being about a C+. Who do you think ends up with the most successful Year 1? Who fails many expectations immediately? Time will tell!
-Scott